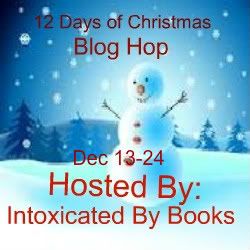 WELCOME TO THE 12 DAYS OF CHRISTMAS BLOG HOP.
No matter what holiday you are celebrating at this time of year, there is no better time to CELEBRATE THE SEASON! I am a snow person. I LOVE SNOW! *glares at Mother Nature because we have NO SNOW right now* BRING ON THE WHITE STUFF!
SO to enter the blog hop, leave me a message telling me what your IDEAL winter vacation would be. Skiiing in the Swiss Alps, laying on a beach in Hawaii, hanging out with friends and family at home or curled up with your favorite book?
****Make sure you are a GFC follower of Forbidden Reviews to qualify!!!
Comment below stating your IDEAL winter vacation and your email address (no email address...no win). I will pick 1 winner at the end of the hop (Dec 24th). What will you win? I am so glad you asked!
Enjoy the hop and enjoy your winter!
CONTEST IS OVER! Winner is:
Megan said...
My ideal winter vacation would include: no yelling kids, lots of time to catch up on my reading and writing and NO cleaning, appointments or deadlines!!!